Vintage Antique Porcelain Coca-cola Lollipop Sign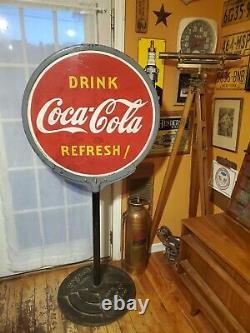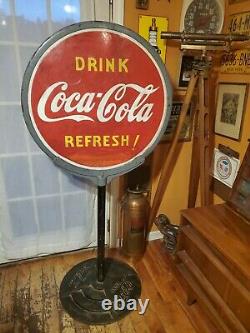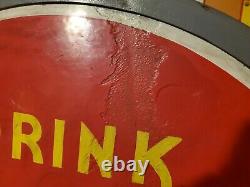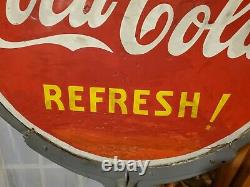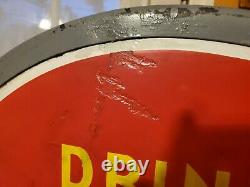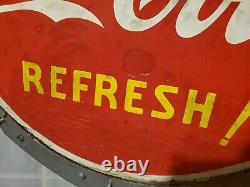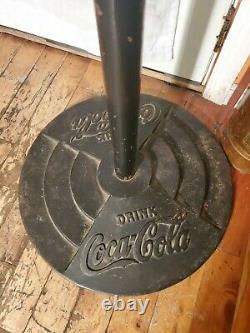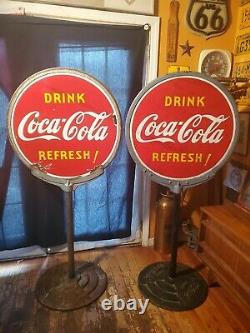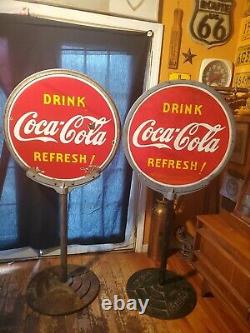 PLEASE READ THE ENTIRE DESCRIPTION. VINTAGE ANTIQUE PORCELAIN COCA-COLA LOLLIPOP SIGN. These beautifully crafted, awesome signs from the early 20th century and the iconic companies for which they represented who helped build and shape the great USA are such an important part of our history. They are a reminder of the hard work, dedication and pride that we as a working nation held and held to the highest standards instilling the highest quality and value in everything that we did and stood for that made this country the greatest country of all to this day and they should be saved and valued when ever possible.
Unfortunately signs are just not made like this anylonger. The signs that were manufactured in that era were made to stand the test of time and thats exactly what they do.
There are so many well known, iconic companies from years gone by that went out of business or changed owners or were renamed that were the fabric of their communities and employed entire towns and communities keeping their employees happy with a sense of security and self worth that they could provide for and raise their families and build a home that are gone now and all but forgotten. When we find and preserve their porcelain advertising signs, that are still here and will be for centuries to come because of this quality and craftsmanship, it'll keep the memories alive of those once "pillars of their community" that supported all of those families back then. Our parents, aunts, uncles, grandparents or even great grandparents. Whithout whom we may not even be here.
We all have to reserve a certain amount of gratitude for these companies. When this sign was made the craftsman who made it put so much time and effort in to designing and painstakingly creating it that they wanted it to last forever. Today most advertising signs are made of plastic or are painted with such low quality materials that they'll dry out, crack, break and fade maybe lasting 10-15 years. These early porcelain signs can last virtually for ever. This particular sign from the'40s early'50s or maybe the'30s(the manufacture date is not present or visible) is in good condition considering its age and the obvious paint "touchups" made by a previous owner and not me. The cast base features Coca-Cola embossed on opposite sides and the steel post is straight and solid. It has some other issues that are very common with these old signs but nothing that I would consider out of the norm for this type of item.
One such issue and the only somewhat significant issue is where the full round bracket that surrounds the sign meets the bottom bracket that secures the sign to the base post. You'll see that there has been small "stabilizing" welds applied to both sides and that the actual sign has two small splits at those points.
I'm sure that at some point in it's life this sign was either struck, maybe a few times and knocked over or withstood some strong winds over it's many years of service causing it to flex enough over and over to cause cracks and then split. Although they are not the nicest "stabilizing" welds they are solid and were necessary to keep the sign from splitting even more.
Without those "stabilizing" welds it more than likely would have split all the way to the point of being unrepairable and destroying the sign. Thank goodness it was stabilized. Issues like this are expected as far as I'm concerned. Just like paint loss, chipping, rot, pieces missing, bullet holes, etc. Those are the things that give it all it's character.
For me, the paint "touch up" is the biggest issue. It just should not have been done, period.
However, it can be undone with some will. I like my antiques to be chipped, dirty, grimey and ALL original. You know what they say... Please look closely at the pictures and don't hesitate to ask any questions. The fact that it is a vintage, porcelain Coca-Cola sign, one of the most desirable companies to collect advertising from and that, in my opinion the sign does display nicely despite its "condition" and that its not all shot up, twisted and destroyed makes it somewhat desirable, worth having and proudly displaying. I had been looking for a Coca-Cola lollipop sign for a while and when 1 popped up and then the other within a day or two I just couldn't resist. The sign measures as follows- top, round advertisement meas. 30-1/2"W× 32-1/2"H, steel post meas. 28-1/2"H× 2" round and the base meas.
Again, Please look at all of the pics and use the zoom feature as they are an important part of the description and the best way to determine if the item is right for you. Please ask any questions you may have and thanks for looking. THE LAST TWO(2) PICTURES ARE A SIDE BY SIDE COMPARISON OF THE SIGN LISTED FOR THIS SALE WHICH IS ON THE RIGHT ALONG MY OTHER SIGN.
HERE YOU CAN SEE HOW WELL THE SIGN ACTUALLY DISPLAYS NEXT TO AN UNTOUCHED ALL ORIGINAL SIGN. THE SIGN ON THE LEFT SIDE IN THE PICTURES IS NOT INCLUDED IN THIS SALE NOR IS IT FOR SALE AT THIS TIME. IT IS PICTURED FOR COMPARISON ONLY. That along with family responsibilities leaves me very little time to attend to disassembling items if needed and securely packing them with care which I do for every single item I sell.
I apologize in advance for any inconvenience or stress this may cause you as it is not my intention to do so. Again, please ask any questions you may have. The item "VINTAGE ANTIQUE PORCELAIN COCA-COLA LOLLIPOP SIGN" is in sale since Tuesday, June 1, 2021. This item is in the category "Collectibles\Advertising\Soda\Coca-Cola\Signs". The seller is "spencer7901" and is located in Deer Park, New York.
This item can be shipped to United States.
Brand: Coca-Cola
Type of Advertising: Sign

---